150x90 cm, acrylics on board, 2020, "Dawn of Completeness" series
original available for sale, contact me for details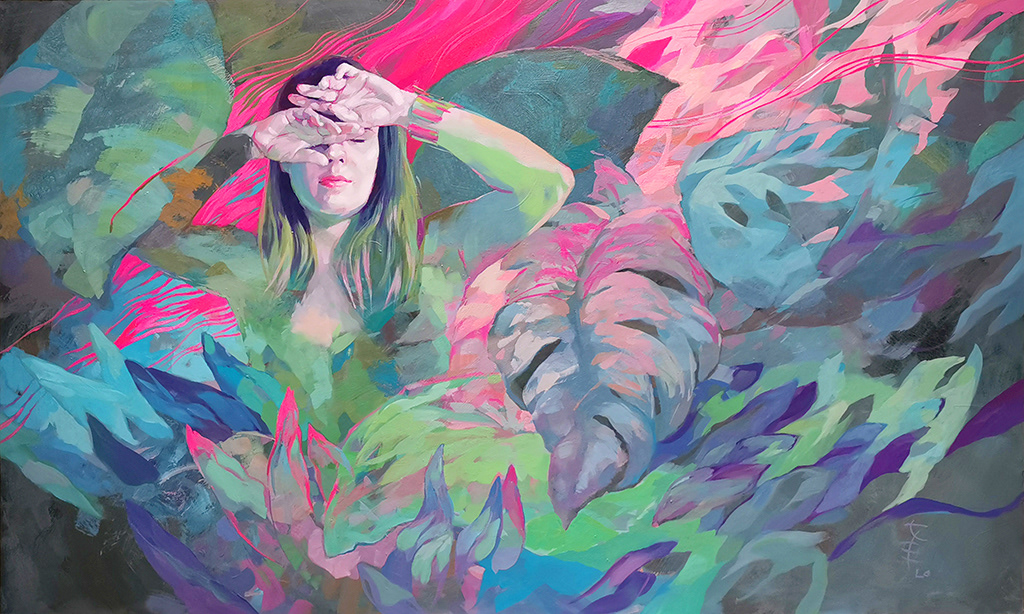 [PL]

Przestań być tym kim jesteś, aby stać się tym kim jesteś. Przypomnij sobie. 
Jest to opowieść o pięknie kobiet, które są wyjątkowe poprzez pozwolenie sobie na kroczenie własną ścieżką. Opowieść o wewnętrznej zgodzie na siebie, na swoją odmienność, na swój ogień. Są to kobiety, które mogą stać się źródłem inspiracji.
Obecność, ten stan, który pozwala na połączenie się, stanie się jednią ze wszystkim.  Przestrzeń w której możesz usłyszeć melodię wszechświata, rozmowę kwiatów, poczuć konsystencję kolorów, doświadczyć mądrości drzew, czy poczuć myśli. Miejsce w którym łączysz się między wymiarami. Doświadczasz lekkości bezkresu, majestatu spokoju. Spójność. Pełnie swojej istoty. Oto jesteś, Przypomnij sobie!
Bohaterką tego obrazu jest Magdalena Maria Burger. Prywatnie jest moją przyjaciółka, łączy nas wspólne doświadczanie świata od wielu lat. Madzia jest piękną, różowo
-
brokatową istotą. Jest twórczością, jej życie jest dostrzeganiem piękna i magii w każdym aspekcie codzienności. Uwiecznia swoje wyjątkowe widzenie w zdjęciach, zaczarowanych kadrach, jak i tworzy piękne obiekty, obrazy, rzeźby, scenografie, które mają moc przenoszenia do tego unikatowego świata.
https://www.instagram.com/magdalena.maria.burger/
​​​​​​​